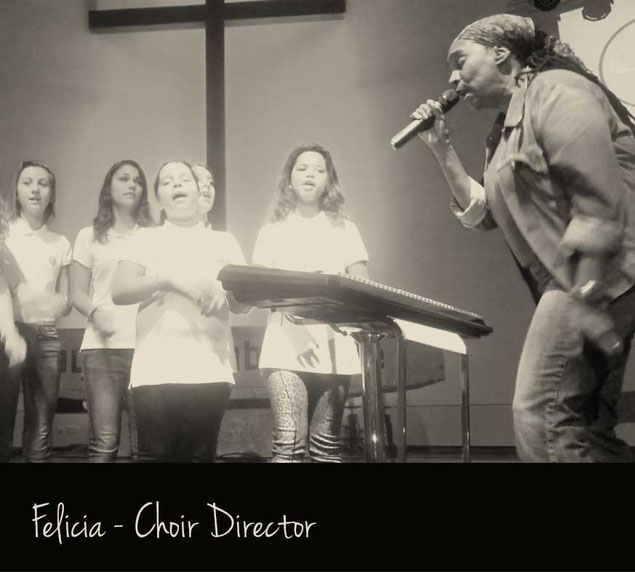 "In His Name" is the first youth gospel Choir with members throughout Franken. Felicia Peters created the choir in 2013, with the support of the Evangelische Jugend Nürnberg  and will continue until 2016. 
The choir gives young women throughout franken, from diffenernt social and religious backrounds, the chance to get learn about their similarities, despite their social differences, and gives them the chance to connect with one another through Gospel Music. The girls range from 9 to 19 years of age and all recieve additional individual vocal training from the instructor, as in incentive to remain dedicated to the project, simlutaneously learning more about self dicipline, tolerance and teamwork. The choir has, to date, 32 members (active and inactive). 
To become a member the young ladies are required to have minimal singing experience, but are expected to be responsible enough to learn the material, and respond promptly when they are not able to attend a rehearsal or planned perfomance. The members are allowed to take a "time out" in case of illness, scholastic or personal problems and can return to the rehearsals at any time. The rehearsals are not manditory, but in order to perfrom the matierial must be prepared, whether within the group or privately.
The Choir is informed about their rehearsals, concerts and schedule changes primarely through their Facebook Group, "IHN" . They perform various Songs from traditional "Amen" and "Kumbaya" to modern songs like "Say Yes", where one of the choir members is currently being featured as a solist!.. ..In His Name...  Admition into the choir is free!!! All inquiries can be made here by email, or with Felicia Peters via private message on Facebook.