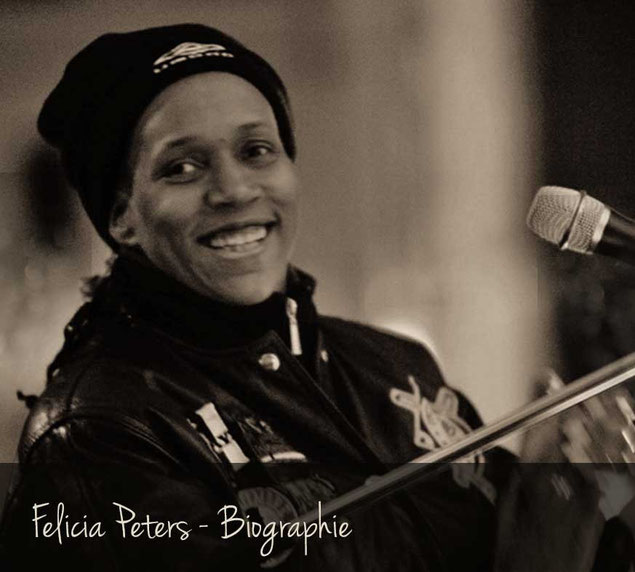 Singer/songwriter Felicia Peters was born in 1964 in Milwaukee Winsconsin.
At the age of 9, she started writing her first poems that eventually led to the composition of over 200 songs. At the age of 13 she learned to play the viola and performed with the Mexico City Philharmonic Orchestra. During this time she also learned to compose her own music. Following a 4 year enlistment in the U.S. Army as a trained Photographer and Motion Picture specialist she further persued a career in the "Arts" by participating in various Studio recordings throught germany as a singer, rapper and songwriter for more than 10 years. 
At the age of 28, and as a single mother of two children, she worked part time as a cook and recorded songs for various artist in multiple studios from Hannover to Munich. Two years later she performed with her first live band, with drummer Gervin  Eisenhower.
Then as an attempt to obtain more "hands on" experience and recognition, she decided to broaden her live band experiences , eventually singing over 400 various cover songs (along with her original compostions) with over 70 different musicans throughout Europe including Germany, Switzerland, France , Austria, Spain and the Czech Republic. She has written lyrics for various known Artists such as John Davis, Cunnie Williams and Inge Humpe, and performed as an opening act other renound artists such as  Captain Hollywood, Die Fantastische Vier, Kosmo Klein and Max Mutzge. She also performed at numerous Music  Festivals in europe including the "Jazz and Blues Festival" in Bamberg, (the largest in Germany) and the "Eclait Démail Jazz Festival" in Limoges France.
Presently, she assists artists with studio recordings throughout europe, and continues her live performances ,while simlultaneously working as a vocal and songwriting instructor for Music workshops, run by various youth organizations throughout Bayern. She also recently reconnected with her classical roots and currently plays viola with a local ensemble "The Alexander Friedrich Consort".
From Blues to Reggae, Jazz to soul, and Rock to Pop, Classical to Gospel, she does it all!!! Bringing more than 25 years of experience to every stage or venue!
Using her authentic, honest charachter to entice her audiences with humor and melodic charm, she also uses her "know-how" to mesmerize them with intense professionalism, allowing her to "make that connection" at every performance.
..."cause life just doesn´t work without music"!